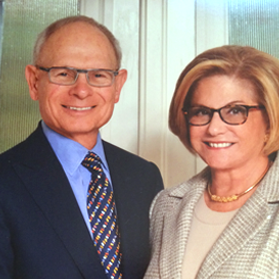 Charles Kramer
Charles Kramer and his late wife, Lynn (1942-2021) established the Arnold and Gertrude Kramer Endowed Memorial Scholarship to benefit Stockton University students who graduated from Atlantic City High School. The Kramer family has generously and graciously supported Stockton University for more than 30 years, playing an influential role in numerous causes that continue to positively impact the surrounding community, including the Stockton Hammonton campus. Charles has been a Stockton University Foundation Board Member for many years and served as chair from 2007 to 2009. The Arnold and Gertrude Kramer Endowed Memorial Scholarship honors the legacy of his parents.
Born in 1914 in New York City to parents who had immigrated from Europe, Arnold moved to Atlantic City in 1924, the year that his father Ben started the business which became Kramer Beverage Co. After graduating from Atlantic City High School in 1933, Arnold attended what was then called Peirce School of Business Administration in Philadelphia, now a full-fledged college. After graduating, Arnold returned to Atlantic City where he applied his knowledge to the family beverage distribution business for the next 40-plus years.
Arnold was always an avid reader with varied interests. He was of exemplary character and known as a serious thinker who never made idle comments and could be counted on in any situation. Arnold was a member of many organizations and took a leadership role in several, especially B'nai Brith. Under its auspices, he administered the Vocational Guidance program for ACHS students, a program which helped young students to recognize where their interests could best be taken advantage of.
Arnold and his wife Gertrude inculcated a thirst for knowledge in their two sons, Charles and Stephen. Both were encouraged and expected to attend college, which they did, fulfilling their parents' aspirations.
Gertrude "Gert" Kramer was born in Atlantic City in 1917, the second daughter of three born to Sadie and Morris Goldstein, who had moved to the shore from Philadelphia. Raised in Depression times, she "never knew she was poor," and had a very happy childhood. Gert graduated from ACHS in 1936. Her father owned and operated a modest, but successful grocery store in the Chelsea section.
A vivacious and athletic youngster, Gert's ambition had always been to attend college and become a teacher. But because of the economic situation in the 1930s, she switched to a non-academic course in high school, much to the chagrin of her teachers, and worked in her father's store after graduation.In 1939, Gertrude married Arnold and several years later they moved to Margate. Aside from her duties as a housewife, Gert was active in many organizations and was also an avid reader, like Arnold. She was known for her optimism, consideration and curiosity about many subjects. She was always interested in what was going on and what the future would bring. Gert survived Arnold by 17 years and passed away at age 99, still curious about the world, especially politics, and "what will happen next."
In recognition for the establishment of this scholarship, the Kramer Veranda was dedicated at the Atlantic City campus on July 18, 2019.