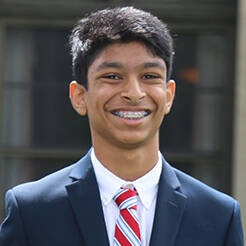 Arman Roy Foundation Hope Scholarship
The Arman Roy Foundation seeks to honor the life and memory of Arman Nandan Roy through the establishment of this scholarship. The mission of the Arman Roy Foundation is to bridge the digital divide, by providing technology resources, education, mentoring, and job opportunities for young adults leading to a positive career pathway in technology. During his beautiful 15 years, Arman lived life to the fullest using his many special gifts to touch countless people in the most thoughtful of ways. He was a loving, gentle, empathetic, adventurous, energetic, brilliant young man. Arman had so many passions including traveling and learning about other cultures, exploring the great outdoors, having fun with friends and family, and absolutely everything related to technology – computers, drones, virtual reality, green tech, robotics, programming, bitcoin, blockchain, and smart everything, which he mastered so quickly and effortlessly! He also realized how fortunate he was to access the wonder, adventure, and opportunity of technology.
In 2017, he learned that Detroit community organizations came together to address the digital divide (over 70% of school age children lacked internet access) and beamed shared gigabit connections through roof antennas directly into neighborhood homes, and he knew this could be done anywhere. He shared this story with his dad and said "this is the kind of work I want to do." While his life was tragically cut short, his legacy lives on through the gift of technology education the Arman Roy Foundation can provide for students in need.
Impact
The Arman Roy Foundation Hope Scholarship is used to provide an annual award of $2,500 each to four students for four years (for a total of $10,000 per student) majoring in Computer Science, Computing, Computer Information Systems, or another technology-related program, with a preference for students typically underrepresented in technology-related fields. Student recipients must have a minimum high school GPA of 3.5, demonstrate financial need, and demonstrate a commitment to serving their communities. Students are expected to remain in good academic standing at the university to continue to receive the scholarship each year.